Haven't done much knitting in the past week, preferring to spend my time on stupid internet games and putzing around. Let's be clear on that, first off. I don't want anyone feeling cheated because there is no progress report this post. However, since I have made the commitment to blog at least once weekly, I don't want to break the habit, and Tuesday is as good a day as any. (I just realized that it is, in fact,
Monday
. Um....I plead winter-break-brain.)
Lately I've been looking at socks. Even though I have knitted a pair and found it sort of boring and tedious, one of my various nebulous goals (don't call it a resolution) this year is to try and enjoy sock knitting. For the sake of pretty socks, which I have always been a fan of. Boyfriend and I went to the Barnes and Noble yesterday and I was checking out a book called
Knitting Socks With Handpainted Yarn
which had some really neat patterns, my favorite being the Spot Check Sock:
Copyright Interweave Knits, etc etc. But isn't that a really cool sock? I mean, the problem is that you need a solid sock yarn in addition to a variegated, but it's still pretty bitchin. Hopefully some day I'll knit a pair. As of right now, I didn't want to buy the book and will, therefore, sigh and just stalk Rav's project pages. I really like the underlying concept though, and I might apply it to something else, who knows? It looks really neat, and it's not like it's hard to see how to do it.
And oh! Yes! The title of this post, let's talk about that. If you read this blog, you might be aware that I am a big Jane Austen fan. I love her novels (have not read her unfinished works or juvenalia), with
Sense and Sensibility
being my favorite. And before you ask, no, I have not read
Pride and Prejudice and Zombies
or
Sense and Sensibility and Sea Monsters
yet, although I find the ideas charming. But a dear friend of mine has introduced me to the work of Kate Beaton, who does historical cartoons, and some have to do with Austen. I desperately want to share this with you all: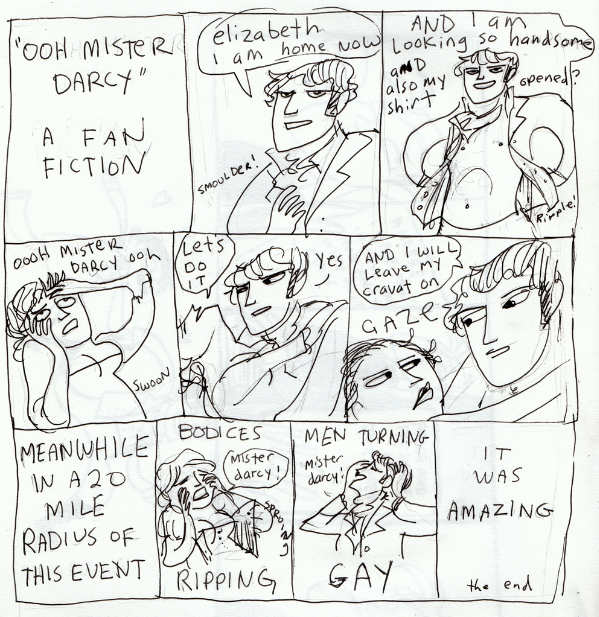 The power of the mystical, magical Mr. Darcy. I love Colin Firth as much as the next woman, but I must admit that I have never found the
character
terribly alluring, although, as I said, Colin Fitzwilliam Firth Darcy is the sexiest thing this side of Alan Rickman's Colonel Brandon. But yes, I wanted to share that comic. Check out the rest of Beaton's work at
Hark! A Vagrant.
Basically, I'm currently killing time until school starts up again. I'm also in the grip of some of the worst premenstrual symptoms ever. I'll spare you the gory details, but I also had a splitting headache last night. I wanted to knit, but I couldn't even if I wanted to. It was awful. Then I managed to knock an entire glass of water directly into my bed at 2AM. While I was in the grip of said headache. But! I am feeling much better today. Hopefully next time I update, I'll have some knitting stuff to update on.
Today Phat Fiber is
giving away a bag
by
Blue Mountain Handcrafts
, go and check it out!
Oh, and I have been thinking about sprucing up the place. Maybe. If I feel like HTML-ing it up. consider yourself warned.